View All Recipes
Aloo Mutter with Asafoetida
Suitable for vegetarians, this is a popular and simple curry made using potatoes and green peas with toasted cumin seeds and a pinch of asafoetida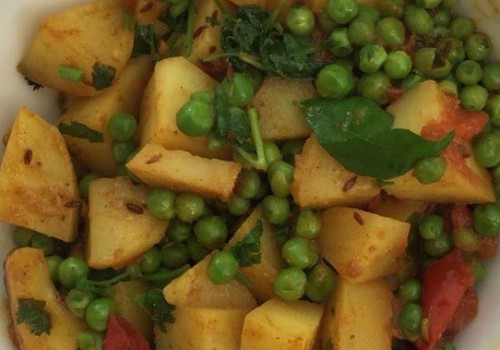 Ingredients
2 x large potatoes peeled and cubed
2 medium ripe tomatoes diced
1 cup frozen garden peas
2 tbsp sunflower oil
1 tsp cumin seeds
5 – 8 curry leaves
1/4 tsp asafoetida
1 green chilli (finely chopped)
1/2 tsp turmeric powder
1 1/2 tsp coriander/cumin powder
Salt – to taste
1 tablespoon fresh coriander for garnish
Hot water (200-300ml)
Method
Heat the oil in shallow saucepan.
Add cumin seeds and let them sizzle and begin to darken.
Add curry leaves and asafoetida, then mix in chilli, turmeric, coriander/cumin powder and salt. Stir-fry for 30 seconds.
Next add tomatoes and stir and cook until it becomes soft and pulpy (4 to 5 minutes).
Add potatoes and mix well. Add water and bring it to boil. Cover and cook until potatoes are half cooked (≈ 8 to 10 minutes)
Then add the peas, reduce heat, cover pan and cook until the vegetables are done. You may need to add more water if the curry dries up.
Garnish with coriander and serve hot.