View All Recipes
Chicken Thighs in Tandoori Marinade
My Tandoori Marinade can be used for a variety of purposes, from this Tandoori Chicken recipe, to tandoori fish, paneer (Indian cheese) and vegetables. The difference between my marinade and the store bought one is that it is a fresh marinade made with garlic, ginger, lemon juice and honey with no added artificial flavours.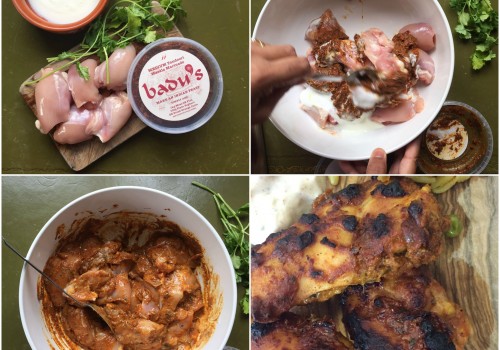 Ingredients
1 x Badu's Tandoori Marinade
3 tbsp (100g) plain yoghurt
1kg skinless chicken thighs (score to allow marinade to penetrate deeper)
Prep time – 10 mins
Cooking time: 35 – 45 mins
Serves 4 – 6
Method
Add all ingredients together and mix well.
You can cook right away but I always like to leave it for at least an hour or sometimes overnight in the fridge to marinade.
Preheat oven to 200°C/180 fan/gas 6. Or get the BBQ ready.
Arrange marinated chicken on a foil lined baking tray and roast for 35 – 40 minutes turning half way through cooking until lovey and charred. If BBQ-ing ensure the chicken is cooked through before serving.
When chicken in ready serve with lemon wedges and a large green salad.