View All Recipes
Chunky Mango Chutney
Indian mangos are in season at the moment. I always try to cook with seasonal ingredients when they are at their best.
Create this tongue tingling chutney with sweet fragrant Indian mangos, tangy tomatoes and dry chilli flakes.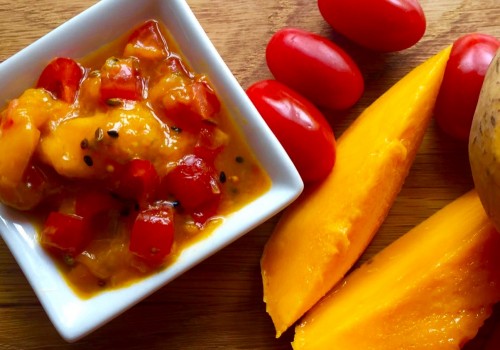 Ingredients
1 x Large ripe Indian mango (remove stone and dice)
2 x Medium ripe tomatoes (remove seeds and dice)
2 x Whites of spring onions (chopped)
1/2 tsp chilli flakes
Salt to taste
For Tempering
1 tbsp Sunflower oil
1/2 tsp Mustard seeds, 1/2 tsp Cumin seeds, 1/2 tsp Fennel seeds, 1/2 tsp Nigella seeds
Method
Heat oil in a pan and add the tempering spices. Allow to sizzle for 30 seconds.
Add the remaining ingredients and mix well and cook for 3 – 4 minutes.
Taste to check flavour, add extra salt or chilli to taste.
Perfect served with seafood.
Can be stored for up to 1 week in the fridge.