View All Recipes
Diwali Jalebi
Jalebi with it's sweet, crisp texture and sticky syrupy centre makes it a favourite of ours, not just for Diwali but all year round.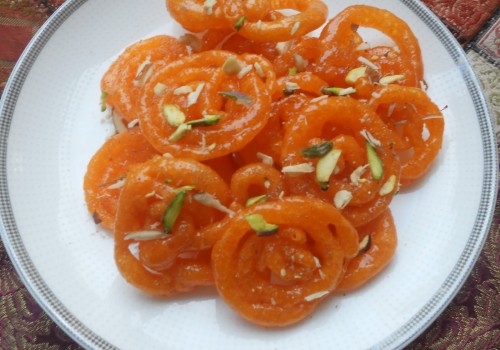 Ingredients
130g Plain flour plus water for a pasty batter
1/2 tsp Baking powder
Ghee for frying
Large pinch of Saffron
1/2 tsp Cardamon
400g Sugar for syrup
1 tsp Lemon juice
1 tbsp Crushed pistachios for topping
1 cup Water for syrup
Method
1. The Syrup – Mix sugar, water, saffron, lemon juice and cardamon and bring to boil and simmer for about 10 minutes. Take a tbsp of the syrup and set it aside to cool. Once cool pinch some of the syrup between an index finger and a thumb and a sticky thread should form. The syrup is now ready.
2. The Batter – Mix the flour, baking powder and water. The batter should be a thick but flowing paste.
3. Heat ghee in a shallow frying pan. Fill a piping bag (or a zip-lock bag with a small hole in a corner) with the batter mixture. Squeeze the batter into the frying pan in circular shapes. 3 – 4 will fit in the pan depending on size.
4. Allow to fry for 2 – 3 minutes until crisp on both sides.
5. Drain and dunk into the warm sugar syrup for 2 minutes.
6.  Sprinkle with crushed pistachios and serve hot or cold.