View All Recipes
Fusion Baba Ganoush
I just love the delicious smokey taste you get when roasting aubergines on the barbecue especially in this Baba Ganoush dish. In the winter it works equally well roasted on the stove.
This quick dip will go perfectly with flat breads as a starter.
Try with a tablespoon of my Aloo/Gobi masala. Its delicious.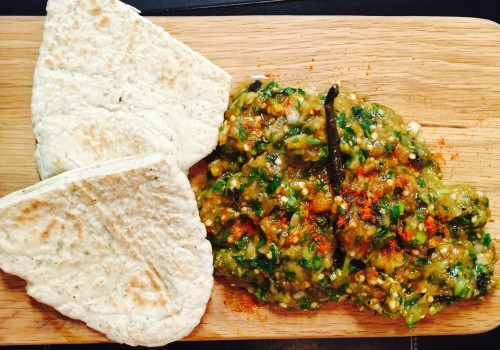 Ingredients
2 large aubergines
3 tablespoon of good olive oil
2 or 3 spring onions chopped finely
1 clove of garlic crushed
1/2 teaspoon of red chilli powder
salt to taste
1 teaspoon od cumin powder
2 tablespoon fresh coriander finely chopped
Lemon rind and juice of 1/2 lemon.
Method
Roast the aubergines under a grill, on the stove or I like it best on the bbq, until charred on the outside but still soft and juicy on the inside.
Cool the aubergines and scoop out all the soft pulp in a bowl. Mash gently with a fork.
Add all the remaining ingredients and mix well.
Drizzle some olive oil on top and serve warm with pitta bread or some dipping vegetable. 
Total time: 10 – 15 minutes