View All Recipes
Spiced Potato with coconut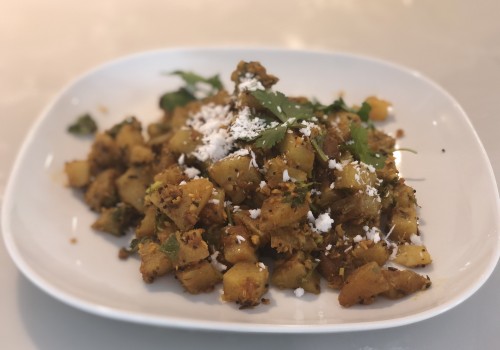 Ingredients
2 tbsp sunflower oil
1 tsp mustard seeds
1 tsp cumin seeds
1 tbsp urad dal (optional)
1 tsp ginger/garlic paste
4 medium size potatoes diced into small cubes
salt to taste
2 tsp cumin/coriander powder
1/2 tsp turmeric
1 tsp red chilli powder
1/2 tsp garam masala powder
2 tbsp coconut grated fresh or frozen plus a little for the garnish
Bunch of fresh coriander
Lemon juice
Method
1. Heat the oil in a large pan, add the mustard seeds, cumin seeds and urad dal. Allow these to crackle and toast for about a minute.
2. Stir in the garlic/ginger paste, allowing it to cook for few seconds before adding the potatoes.
3. Now add the dry spices- salt, cumin/coriander powder, turmeric, chilli powder and garam masala. Mix it through, coating all the potatoes with the spices.
4. Sprinkle the grated coconut on top, cover the pan and allow the potatoes to cook on a low heat for 10 to 15 minutes until done.
5. Finally, sprinkle with coriander and lemon juice and serve garnished with a little grated coconut.