View All Recipes
Badu's Masala Meatballs
Try this recipe using any lean mince, with my Mild or Medium Authentic Curry Masala kit. Try the Hot Authentic Masala if you prefer a fiery dish.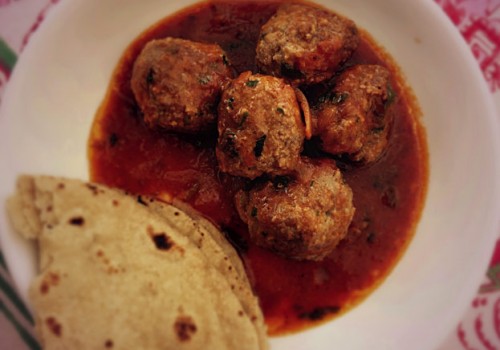 Ingredients
1 Authentic Curry Masala kit (strength your choice)
200g mince (meat of your choice)
2 tbsp. oil
1 medium onion (chopped finely)
200g chopped tomatoes (Passata)
1 bunch coriander
Method
Remove bay leaf and curry leaves from the kit and set aside to be used for the sauce later.
Add 2/3 of the Authentic Curry Masala to the mince and mix thoroughly removing the whole spices.
Roll the mix into 6-8 meatballs (we prefer golf ball size).
Fry meatballs for 2-3 minutes on a medium heat to seal them.
Heat oil and fry bay leaves, curry leaves and chopped onion until soft and golden brown. Add the remaining 1/3 Authentic Curry Masala together with tomatoes and let the sauce cook for at least five minutes. Can add water if the sauce is too thick.
Now add the meatball, lower heat and leave to simmer for 10 minutes.
Sprinkle with chopped coriander and serve with plain boiled rice or naan.
Time – 30 minutes
Serves 4